StoryBrand Marketing Strategy
Use the StoryBrand Framework To Grow Your Business
Make Your Customers The Hero // Position Yourself As The Guide // Grow Your Business
What Is the StoryBrand Framework?
The StoryBrand Framework is a 7-part framework to help you clarify your message. The StoryBrand Framework was created by Donald Miller and the team at StoryBrand.
This framework will help you clarify your message.
The StoryBrand Framework can be applied with local businesses, churches, and even nonprofits.
We'll use the framework in our website wireframes, our sales cop, our videos, blog content, and social media content.
The 7 Parts oF the StoryBrand FrameWork
A Character
What do your customers or target audience want? In order to be successful, you have to know what their goals are and how we can help them achieve those.
Has A Problem
Your potential customers come to you and pay you money because they have a problem to solve.
The problem has three different sections:
External – What is the problem your customers deal with regarding your product or service?
Internal – How is the problem making your customer feel?
Philosophical – Why is it just plain wrong for your customer to be burdened by this problem?
And Meets A Guide
Business owners have a unique challenge: they need to be both guide and problem solver. To do this, you must show that your company has empathy for their customers' problems while also having the authority of knowing how best fix them!
That Has A Plan
The character needs your help to solve their problem. You are the Guide, and you will deliver them on a 3-step action plan that solves all of this trouble once and for all!
And Calls The To Action
We want our character to take action. In the StoryBrand Framework, we teach about two different calls to action.
Direct – A direct action they can take to solve their problem. Book a call, buy something. 
Transitional – This would be a step the character can take before they take direct action.
That Ends In Success
We want to give our character an idea of what success will look like if they take action.
That Helps Them Avoid Failure
If they don't take action, the problem will not go away, and in fact will get worse.
What Is A StoryBrand Brandscript?
A StoryBrand BrandScript is a tool to help guide you through the 7 steps of the StoryBrand Framework.
It's a visual way to walk through each step of the process and see how each piece of the StoryBrand Framework works with each other.
We create a free Canva template to help you do that.
You can download the StoryBrand BrandScript template here.
StoryBrand Marketing Resources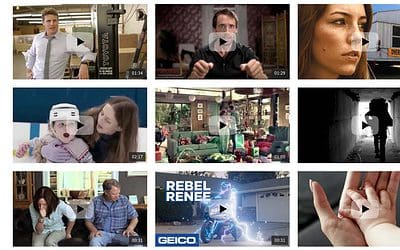 Whether you're a B2B or B2C business, you can use StoryBrand videos to help you better connect with your customers and prospects. In this post, we'll show you some examples of great StoryBrand videos so that you can see how they can work for your business.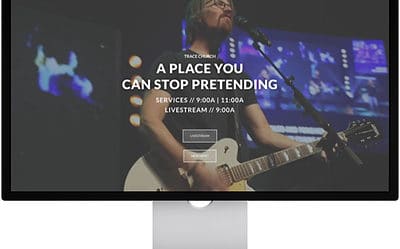 The StoryBrand Framework is a great way for churches to clarify their message and make themselves more valuable in the lives of those around them. StoryBrand uses the power of story has been shown time after again as one our most powerful tools, so let's take advantage!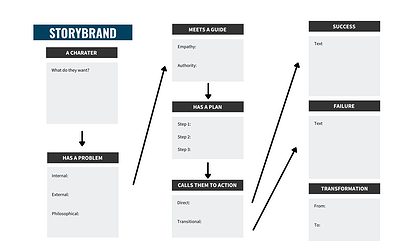 If you're looking to take your digital marketing to the next level and create a website that's both effective and engaging, you need to start with The Storybrand Framework.
This simple but powerful tool will help you craft a story that resonates with your audience and motivates them to take action.
And once you have your story figured out, you'll need a web design and website wireframe to bring it to life.